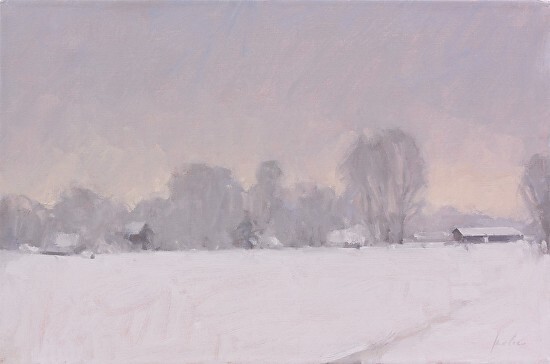 Long Winter, oil on linen, 12" x 18"
THIS MONTH'S FEATURED PAINTING, FRESH OFF THE EASEL !
| | |
| --- | --- |
| This painting is so new, it hasn't yet been signed. One more featured snow scene before Spring arrives. And yes, this has, indeed, been a long, cold winter in the Northeast. But I can't get enough snowy days to paint. And as I watch the snowpack melt under the intense March sun, I hope for another big storm. I think that mornings such as the frosty, ice-encrusted day represented in Long Winter are the most magical, and I Ioved the challenge of trying to capture the simple shapes and subtle glow. Almost monochromatic, yet rich with color, all at once. | |
| | |
Scroll down for news, show listings, and other upcoming events.
---
NEWS and EVENTS
Plein Air Magazine Article Coming in February!





Painting the Desert, slated for publication in the February/March 2014 issue of Plein Air will document the recent trip I took to southern Utah with a group of a dozen top notch painters (and good friends). This same group has taken painting trips to special locations for several years now. I joined them in the fall of 2010 in Provincetown, MA, and was glad to travel again to Utah for this second adventure with the group.

Perfect weather and a magnificient landscape helped us all have a super productive 10-day stay in Moab, with daily excursions north to Canyonlands and Arches National Parks, and south to the iconic Monument Valley. Be sure to look for the upcoming issue of Plein Air to read more about our trip!

Evening Sunlight, oil/linen/board, 8x12

The group at Monument Valley




Painting along the Colorado River canyon east of Moab (that's me in the middle), with Paul Schulenburg and Ernesto Nemesio, and my painting from that session Evening Sunlight on the left.


Signature Member of the American Impressionist Society

I am proud to announce that I have been promoted to Signature Member status within the American Impressionist Society. I look forward to continuing to exhibit with this young, but already prestigious organization.

Wellfleet Morning (right) was my contribution to last year's Annual Exhibition of the AIS, held in Charleston, SC at the M Gallery of Fine Art (recently renamed Principle Gallery).


Wellfleet Morning, oil/muslin on board, 11x14




"Spring Shower" to be featured on the cover of SANCTUARY

For the second year in a row, I will have a painting on the cover of the Spring issue of Mass Audubon's Sanctuary Magazine. This will actually be the third time my work has graced the cover of Sanctuary, and if any of you are not familiar with this terrific publication, the subscription alone is well-worth the cost of joining Mass Audubon!

Spring Shower, Hass Hill, oil on linen, 11x16


Last year's Spring 2013 issue of Sanctuary with "Waiting for Spring" on the cover

In response to inquiries I have received from numerous readers of Sanctuary, I am now offering a very limited edition of signed, numbered prints of Waiting for Spring. Check my album of Prints to find out how to order your own copy!




ON VIEW NOW




Audubon and the Art of Birds

Bell Museum of Natural History

Minneapolis, MI

October 5 2013 to June 8, 2014

I am very proud to have been invited by curator Don Luce to be a part of this historic exhibition, created by the Bell Museum of Natural History in Minneapolis, and highlighting John James Audubon and his continued influence on the art of birds, even now, more than 150 years after his death. Since just a handful of contemporary painters were invited to participate in the show, I am particularly honored that my oil paintings Reflections of April and Spring Seep, Woodcock (below) were included as representative of the particularly recent sub-genre of "The Bird in its Environment."

Audubon and the Art of Birds will remain at the Bell Museum into June 2014, and then tour for an additonal year. Visit the exhibition website to learn more about the tour, and to see the list of venues and schedule of featured events.

Spring Seep, Woodcock, oil on linen, 14"x 17½" (2002)


Full-color catalog accompanying the Audubon and the Art of Birds exhibit at The Bell Museum of Natural History.

On Tour With the 2014 Birds in Art Exhibition

Pond Lilies and Gallinule will be traveling with the 2014 Birds in Art tour, sponsored by the Leigh Yawkey Woodson Art Museum of Wausau WI. Longtime host of the annual Birds in Art exhibition, the Woodson honored me in 2011 as their 32nd Master Wildlife Artist.

For more information about this prestigious show and the 2014 tour venues visit the Birds in Art website.


Pond Lilies and Gallinule, oil on linen, 24"x30"

---

IN CASE YOU MISSED IT




Paintings Acquired by the Woodson Museum

In late 2013, two of my paintings were acquired by the Woodson Art Museum. Both were among the works shown in my Master Wildlife Artist retrospective that accompanied the 2011 Birds in Art.

The Woodson already owns an oil painting of mine, purchased some years ago from Birds in Art, as well as a graphite study for an illustration that was published on the cover of the ornithological journal Auk. And added now to their amazingly rich permanent collection is River Reflections, Fire and Ice (below), and a watercolor illustration from my 1994 Golden Field Guide "Eastern Birds," Gnatchatcher, Kinglets and Vireos (right).

Gnatchatcher, Kinglets and Vireo, watercolor, 1991




River Reflections, Fire and Ice, oil on linen, 24"x 44"




BACK TO TOP